Setting Boundaries After Situations of Abuse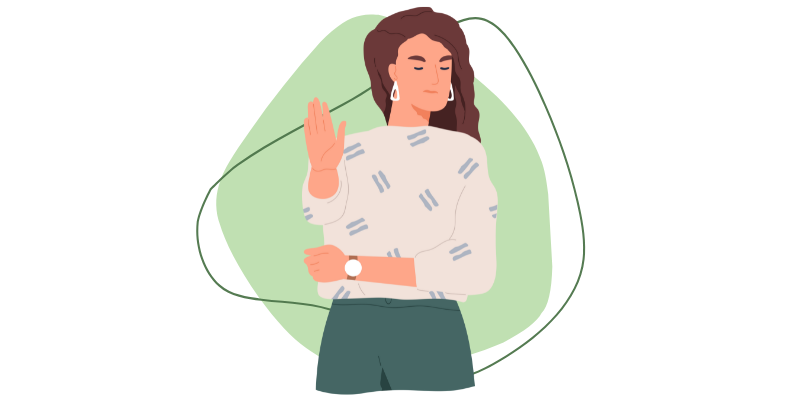 When you are in a situation of modern slavery you lose agency. That means that someone controls everything you do.
You are often punished for trying to make your own decisions, expressing a need/pain, or having a say or opinion about any part of your life.
Once you get out, being free can feel terrifying and overwhelming, because you are not used to being able to make decisions for yourself.
You might worry about doing everything wrong and getting in trouble all the time.
It sometimes feels like you constantly have to explain yourself or justify yourself to people.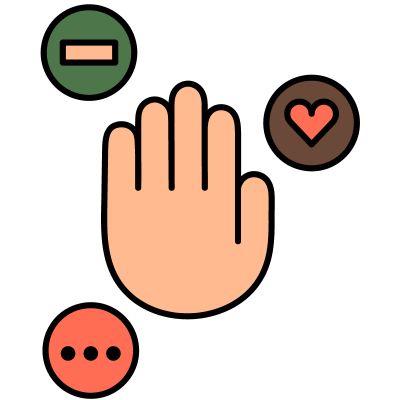 Why are boundaries tricky?
Sometimes, we are so used to people:
abusing us
violating our body
ignoring our needs and wishes
that setting boundaries can be very difficult.
We often feel we have to please everyone and don't know how to think about our own needs.
Being able to set healthy and safe boundaries protects us, and helps us to avoid situations of further abuse.
How to set healthy boundaries
Taking healthy boundaries practice and time. Click on the boxes to learn more tips from other survivors for setting healthy boundaries:
1. Know your own limits
Take time to reflect on your own needs and values, and make a list of the behaviours and actions that make you feel uncomfortable or disrespected.
2. Be clear and direct
Be clear and direct about what you are not comfortable with. It's ok to say NO to things you don't want to do. You don't have to have a particular reason or excuse. Not being able to, or wanting to do something is reason enough.
3. Follow through
Once you have communicated your boundaries, it's important to follow through and enforce them. This might involve:
Leaving a situation/place
Hanging up the phone
Turning off your phone
Not opening the door to someone who insists on visiting
Blocking someone's number etc.
All of these things can feel very scary, but are important in protecting yourself when you have set a boundary. The people that continue to pressure you to do what they want you to do, even if it's not good for you, are dangerous for your recovery.
Respectful and healthy friends encourage you and support you to set good boundaries.
4. Practice self-care
Setting and enforcing boundaries can be difficult, and it's important to practice self-care to support your emotional well-being.
This may involve:
Seeking support from friends or family
Engaging in activities that bring you joy
Seeking professional help if needed
5. Revisit your boundaries regularly
As your needs and values evolve, it's important to revisit your boundaries regularly and make adjustments. Don't be afraid to communicate changes in your boundaries to others and be open to feedback from others as well.

Making progress to living a life free from abuse
Setting healthy boundaries takes a lot of practice, and can seem like an overwhelming process.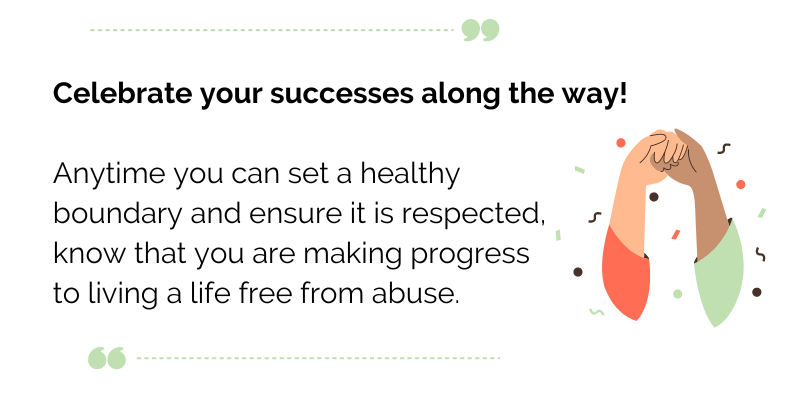 ---
Find out more about exploitation, human trafficking and modern slavery: